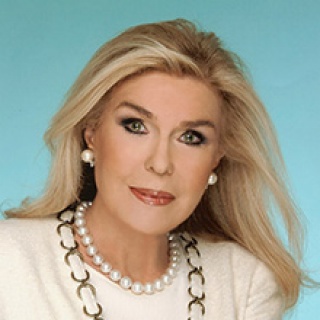 MARIANNA V. VARDINOYANNIS
Greece
UNESCO Goodwill Ambassador
Born in Athens, she is married to businessman Mr. Vardi I. Vardinoyannis, President of Motor Oil. They have five children.
Current Positions:
• Goodwill Ambassador of UNESCO in the field of the Protection of Children since 1999
• Founder and President of the Marianna V. Vardinoyannis Foundation, the "Foundation for the Child and the Family"
• Founder and President of "ELPIDA Friends' Association of Children with Cancer"
Education:
• B.A. in Economics.
• B.A. in History of Art
• Mphil in Archeology
• Honorary Doctorates in Laws, Philosophy and Human Studies.
Distinctions:
• Chevalier de la Legion d'Honneur by the French Republic
• Golden Cross of the Order of Benefaction by the Hellenic Republic
• Academy of Athens Award
Memberships
UNESCO Goodwill Ambassador
Representative of the Director-General of UNESCO for the international promotion of the
Cultural Olympiad
Member of the Board of Trustees of the Library of Alexandria
Member of the Board of Trustees of the Mentor Foundation
Member of the Board of Trustees of "The Suzanne Mubarak Women's International
Peace Movement" (Zurich, Switzerland)
Member of the International Committee of the Foundation for a Culture of Peace (Spain)
Representative in Greece of the European Bureau for Missing and Abused Children
(France)
Director of International Relations of the Campaign for the Return of the Parthenon
Marbles (Great Britain)
Mrs. Vardinoyannis has built up an extensive record of social and humanitarian work, focused on children's rights and health, education, poverty, human trafficking, drug prevention, climate change, peace culture, dialogue among civilizations, and protection of the world cultural heritage.
Message
I would like to express my warmest thanks for the great chance I was given to contribute to the noble causes and the outstanding work of Ashinaga.