Umbaji and the Democratization of EdTech in Togo
Umbaji and the Democratization of EdTech in Togo
Written By Justin Essowè BAKOUBOLO, 4th year AAI Scholar 
In the 19th century, the successful African American entrepreneur and inventor Garrett Augustus Morgan actively took part in the industrial revolution by inventing the respirator and traffic lights, subsequently leaving a legacy not only to Afro-descendants but also to the entire world. Similarly, in the era of the Fourth Industrial Revolution, what will the role of African inventors be in the socio-economic development of Africa? Africa offers room for a massive scale deployment of green and advanced technologies. And that is what Umbaji is all about. 
As a scholar of the Ashinaga Africa Initiative, I was asked to identify a societal challenge and propose a way to tackle it through an innovative entrepreneurship project. "Umbaji" means "creation" in Swahili. Umbaji aims to use new and green technologies to make an impact in the educational field and further foster the socio-economic development of my country, Togo, and Africa as a whole. It comes from the need for the educational system in Togo to be improved with high-quality equipment to allow Togolese youth to gain the skills and knowledge needed for endogenous development. 
At the age of 13, I was among the selected candidates to attend the Scientific High School of Lomé, the best high school in the country. This was the first time I was offered the privilege to access some equipment for practical work. At the age of 17, after my A-Levels, upon understanding the need to have more teachers in scientific fields, I co-launched a volunteering project with a high school friend. This project, for which I endorsed the role of manager and volunteer teacher, aimed at providing schools and non-profits in Togo with volunteer teachers in the science field. This experience profoundly impacted me and fueled my desire to strive for access to education and quality education. 
Thus, while studying engineering at university, I have focused specifically on developing the skills that would help me discover high-level solutions: Robotics, Artificial Intelligence & Machine Learning, and Business Management. I received the opportunity to study Machine Learning at Stanford University through a scholarship. The short video below shows a propeller calibration for the educational drone prototype being developed by Umbaji. 
Umbaji is also the fruit of three years of research to deeply understand the topic and identify the needs to develop the proper solutions. Interestingly, the average electronic wastes recycling rate in France for the past years is 17,4 % which is less than the European average rate, while the average recycling rate in Togo is 30% (Nadjejo Bigou-Lare and Benoit Pige, 2015). These statistics depict an enormous exploitable potential: imagine throwing your electronic devices away due to improper functioning, although many components are still reusable. This implies that the ability to innovate without jeopardizing the environment should be a guideline for Umbaji. Many young inventors at Makerspace in Togo are making this a reality. For instance, the Togolese MakerSpace EcotecLab, where I interned this summer 2021 in Lomé, can build 3D printers from recycled materials and has based its philosophy upon using green technology. Inspired by this concept, I have worked to build the necessary network to leverage the use of green technology in education, connecting with the Next Einstein Forum ambassador and Ministries in Togo, to mention but a few key actors. 
At the current stage, Umbaji is working on the development of partnerships and looking for investors. It is also aiming to develop technical cooperation to deploy robotics and other advanced technologies in education, democratize Edtech, and make it a trend at a national and continental scale.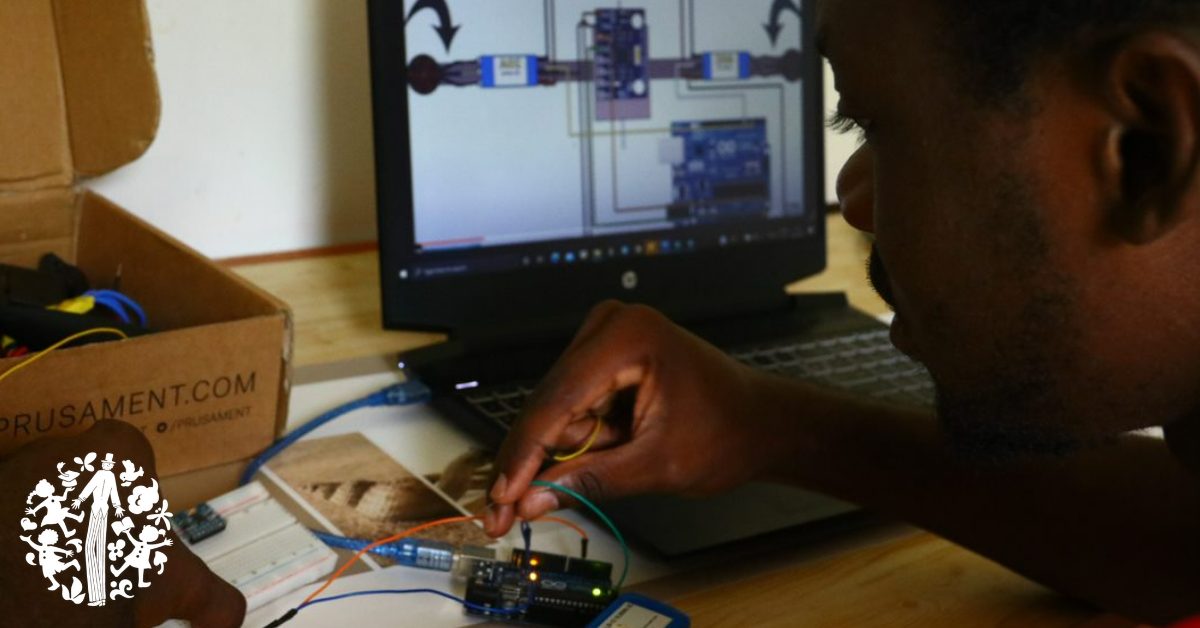 About the Author
Justin is an Ashinaga Africa Initiative Scholar from Togo and a 4th-year Engineering Student in France, focusing on Robotics and Artificial Intelligence. Justin's Ashinaga Proposal, "Umbaji Lab," aims to improve technology education in Togo. By providing innovative and affordable technological education equipment to young Togolese students, Justin hopes to foster their interest in STEMs and carve out space for them to practice their creative and technological skills — ultimately impacting tech education in his home country and across the African continent.