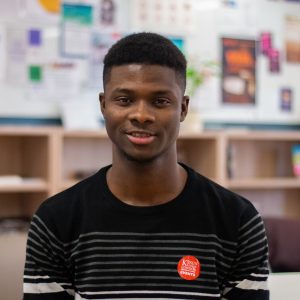 Cherno
University: University of Manchester Area of Study: Biomedical Sciences Expected Graduation Summer 2021
Lifelong Ambition: Cherno is an Ashinaga UK scholar studying at the University of Manchester, one of the world's most international universities. Cherno is highly motivated in his study of Biomedical Sciences because he believes that the field is the backbone of scientific discovery behind medical diagnosis. By studying this degree, he aims to create an organisation of biomedical technicians who will collaborate together to pioneer research on tropical diseases affecting his community in The Gambia. This organisation would bring researchers together to be at the forefront of solving health-related problems that his country faces.
All of this forms part of his overarching goal of promoting collaboration and partnership within communities in The Gambia. Motivated by this kokorozashi, Cherno has pursued relevant community projects and experience including an internship in Rwanda with a focus on local health initiatives and his own plan of creating a loan and savings association for widows in The Gambia.
Cherno says that creating a loan and savings association for widows in his home country will promote the power of unionism and teamwork that will help some of the most vulnerable in society receive a sustainable income. When looking at his country, he believes that the key to development is prioritising national policy on creating opportunities for citizens such as education and supporting local businesses. Cherno is ready to make an impact with this goal.