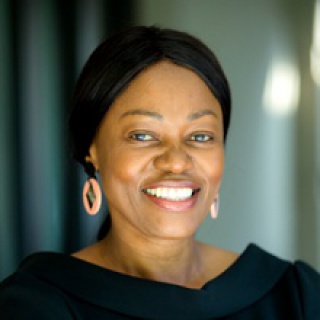 TSITSI MASIYIWA
Zimbabwe
Founder and Co-Chair at Higherlife Foundation
Tsitsi Masiyiwa is an African philanthropist and social entrepreneur who has devoted her life to empowering the lives of young people through education. She started working in philanthropy in the early 1990s through the work of her husband, Strive Masiyiwa, in the telecommunications business in Zimbabwe. During that time, the country was gripped by the HIV/AIDS pandemic and many families lost breadwinners. The impact of the pandemic touched her heart and she started supporting the children of employees and community members that would have passed on due to this pandemic.
She dedicated her life to supporting young children and orphans' lives. Together with her husband, she founded Higherlife Foundation in 1996, which has supported over 250,000 children to access education services. It has become one of the largest scholarship program in Africa and thousands of children have gone on to receive tertiary scholarships to study at the world top universities.
Mr. & Mrs. Masiyiwa Conferred with "the Points of Light Award" by UK Prime Minister
Mr. Strive Masiyiwa and Mrs. Tsitsi Masiyiwa were awarded "the Points of Light Award" on 13th June 2018 by Mrs. Theresa May, the British Prime Minister, for their commitment to improving the learning opportunities of underprivileged children across Africa. This award recognizes outstanding volunteers who are making a change in their community and inspiring others. The Masiyiwas founded the Highterlife Foundation in 1996, a non-profit organization that is investing in Africa's future by empowering vulnerable children through education and creating opportunities for talented young people. The Foundation pays the scholarship for 20,000 students per year in Zimbabwe, Lesotho and Burundi. They also have developed an online platform "Ruzivo Digital Learning" providing digital learning opportunities for thousands of students every month. In 2014, Strive and Tsitsi co-founded a tech hub "Muzinda Hub" in Sub-Saharan Africa which enables to train 1,000 Zimbabwean young people in digital skills and IT programming.
Related links:
https://www.pointsoflight.gov.uk/higherlife-foundation/
https://www.higherlifefoundation.com/u-k-prime-minister-awards-outstanding-zimbabwean-philanthropists/
https://www.forbes.com/sites/mfonobongnsehe/2018/06/13/zimbabwean-billionaire-strive-masiyiwa-and-wife-receive-british-award-for-philanthropy/#2cc5850176f8
https://news.pindula.co.zw/2018/06/14/tsitsi-and-strive-masiyiwa-honoured-by-uk-prime-minister/