Enhancing Technical Skills as an Engineer to Contribute to My Home Country
Walter, from Uganda, is an Ashinaga Africa Initiative (AAI) Graduate who completed his bachelor's degree in March 2023 and graduated from the Tokai University School of Engineering. He is a first-generation "Japanese Track" AAI Scholar who took his university entrance examination and classes in Japanese.
 Before joining AAI, Walter had yet to experience the Japanese language. While he studied hard at a Japanese language school for a year and a half before attending university classes, learning university-level engineering subjects in Japanese took work. However, he achieved great results thanks to the support of his community.
Walter's dedication to his professional growth inspired him to look for opportunities such as interning in Japan and Africa and making presentations at conferences. He was also the Ashinaga International Students' Association (AISA) president. During his studies in Japan, Walter tried to gain academic knowledge, work on his personal development, and integrate himself into Japanese society.
As part of the AAI, Scholars identify and research problems they would like to solve in their home countries. They must turn in an Ashinaga Proposal that explores the depth of the problem and their approach to solving it.
Walter noticed that in Uganda, overdependence on resources such as firewood and charcoal used in daily life causes serious health hazards and the depletion of forest natural resources. While enrolled, Walter examined how to introduce solid fuel while considering the environment and human health for his Ashinaga Proposal. As part of that process, he learned about a company in Innoshima, Hiroshima Prefecture, that works with machines that make briquettes (a type of solid fuel) made of eco-friendly rice husks. He sent an enthusiastic email to the company president and landed an internship. His passion for the field, his Ashinaga proposal research, and his mechanical engineering skills were valued highly there, and since April has been working at the company as an engineer.
At the May 2023 G7 Summit in Hiroshima, Walter took part in an exhibition booth at the United Nations Industrial Development Organization (UNIDO) that introduced Japanese technologies to provide solutions in developing countries for a sustainable future. This booth featured his company's ground-breaking technology that makes sustainable fuel to replace firewood and charcoal. "I am honored to have been part of the G7 exhibition. To have been selected from among many companies to exhibit our product at UNIDO demonstrates that it is world-class technology. I feel that we can help many countries worldwide with our technology."
As a mechanical design engineer, Walter is also involved in exporting the company's technology to Africa, where he will be part of the team that trains local business partners to construct, repair, and provide after-sales services. "In many African countries, rice husks are thrown away and eventually burned. However, by making them a renewable energy source, the depletion of forest natural resources can be slowed, and health hazards due to frequent use of charcoal can be prevented while also using the land more effectively. "It would be nice to contribute to improving soil quality by using organic materials such as biochar in the future."
Before he was chosen as an AAI Scholar, Walter bought a hoe and did a farmwork to support his family in their rural farming area in Uganda. He has a powerful desire to improve the conditions of rural life in Uganda. We are eager to see Walter's contribution to the restoration of his home country and Africa in the future by improving his skills.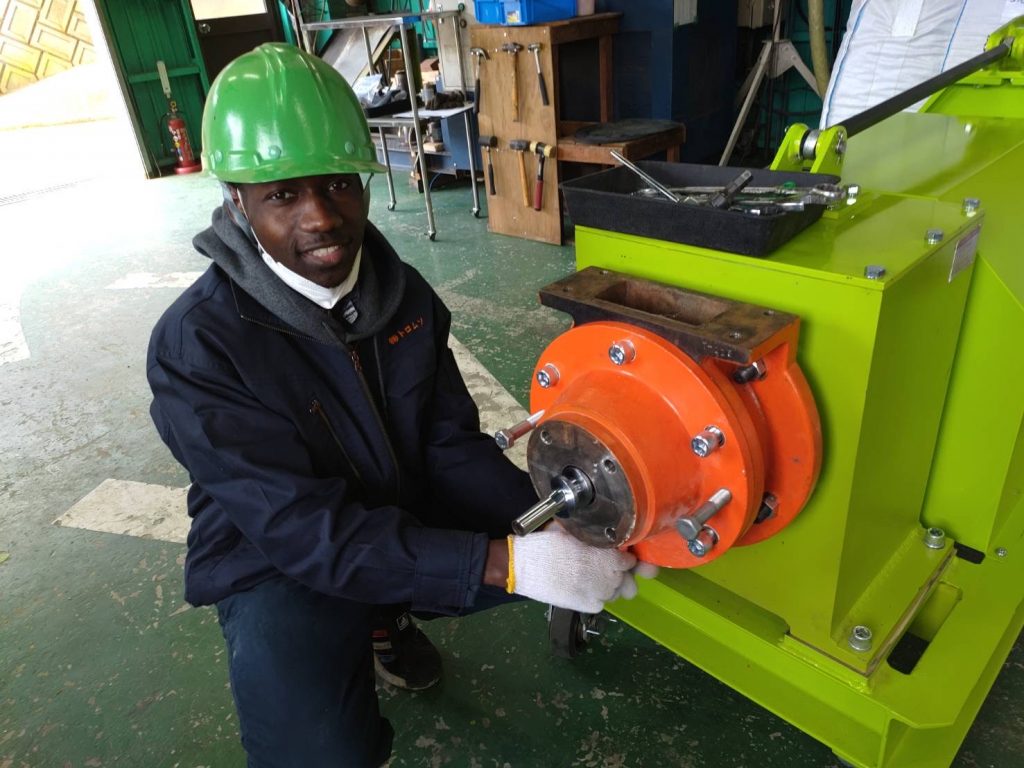 After working for several months, Walter enjoyed learning new things and challenging himself. He is also part of a local soccer team and enjoys living in Innoshima. "Everything I learned as an AAI Scholar has been useful to me in my job. Working with others, taking on challenges: all these things I could experience and learn from thanks to the support of Ashinaga-san, and for that, I am truly grateful."
Walter is determined to be the bridge to facilitate more collaboration between Japan and Africa, to contribute to the development of rural life in Uganda and Africa in general.