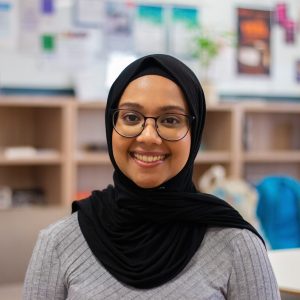 Sakiinah
University: University of Manchester Degree Course: MBChB Medicine Internship: Sakiinah completed an internship with a Plastic Surgeon in Mauritius
Future Ambitions: Sakiinah plans to qualify as a doctor and hopes that specialising in plastic and reconstructive surgery will enable her to contribute to improving access to quality medical treatment in Mauritius. She wants to help victims of burns, accidents and birth malformations and also to contribute in the training of future doctors in Africa.
Other Accomplishments:
Presented her research at conferences in Kyoto, Manchester, Belfast and Kuala Lumpur.
Her 3rd year dissertation was published in the British Medical Journal and is about the introduction of a new type of examination in post-graduate plastic surgery training in the UK.