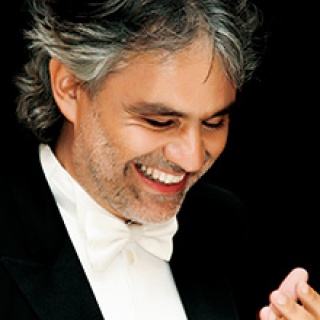 A mellow and recognizable voice that resounds in over eighty million records, a tenor voice ranging from Belcanto to Verismo, Andrea Bocelli has been declared everywhere in the world the testimony of the highest Italian vocal tradition.
After perfecting under the guidance of Franco Corelli, he won Sanremo Music Festival in 1994, starting at the same time his dazzling classical career, by facing on stage – directed by Lorin Maazel, Seiji Ozawa, and Zubin Mehta – the titles of the great operatic repertoire. An artist who has broken all records; among the countless awards, a star on the Walk of Fame in Hollywood has been shining, since 2010, in his honor. The star of concerts, invariably sold out, he has recorded La Bohème, Tosca, Il Trovatore, Werther, Pagliacci, Cavalleria Rusticana, Carmen, Andrea Chénier, Manon Lescaut. Soon, will be released Turandot under the baton of Zubin Mehta.
In 2011 Andrea Bocelli has given birth to the Andrea Bocelli Foundation in order to enhance, and not to disperse the richness of relationships, and the bond of trust that he has gained, and gains, with many people, in every part of the world he has been, where he is, inevitably, considered, a point of reference in music but also in ethics. At the 2015 World Economic Forum in Davos, he has been awarded the Crystal Award, a prestigious recognition to the artist, to the man, to the philanthropist.
I have come to know of the honorable and valuable activity carried out by the nonprofit organization Ashinaga which is the result of an intuition that, in almost half a century of activity, has led tens of thousands of people in the world to complete their University studies ….Young people who had started from a disadvantaged position, because dramatically hurt in their innermost feelings (loss of their parents) and at the same time also penalized by the lack, more or less sudden, of the necessary support which is usually given by family.
To the young people who, even if, in pain and fatigue caused by such terrible losses, have the good fortune of being able to take advantage of this extraordinary opportunity which fosters aspirations, and to all those who with effort and sacrifices are facing a new learning process, I would like to tell how close I feel to them, and how high my consideration is.
・・・(snip) Studying is a formidable training to acquire the skills that make each of us special and irreplaceable. I have confidence in you, who tomorrow will have the world in your hands; I trust your intelligence, kindness, and perseverance.