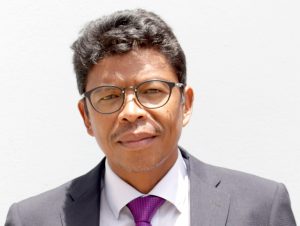 HERINJATOVO AIMÉ RAMIARISON
Madagascar
Professor of Economics, Researcher The University of Antananarivo
Dr. RAMIARISON HERINJATOVO Aimé was born on January 21st, 1966 in Madagascar. He received his B.A. in Economics from the University of Madagascar in 1988. In 1996, he entered the Graduate School of Commerce of Meiji University, Tokyo, Japan and has earned M.A. and Ph.D in Commerce in 1998 and 2002. He is currently Professor of Economics at the University of Antananarivo Madagascar and acts as General Coordinator of the Presidency.
He is also Director of the Observatoire pour le Développement National des Ressources humaines du niveau de l'Enseignement Supérieur (ODRES) of the University of Antananarivo.
Dr RAMIARISON has been a member of Advisory Group for Sub-Saharan Africa (AGSA) at IMF (2016-2018), Visiting Professor at Meiji University, School of Commerce (2005), and Visiting Research Fellow at the Institute of Developing Economies (IDE-JETRO), Japan (2010). He acted as Special Adviser, in charge of Japanese ODA and investments, to the Minister of Economy, Trade and Industry of Madagascar in 2008.
He serves as Vice President of NGO SAKURA, Madagascar's International Student Association,  and shares the appeal of studying in Japan with Malagasy students including students Antananarivo University.
At the University of Antananarivo, he also currently assumes the role of "Comprehensive Coordinator for Projects" to assist the President, and is responsible for the university's external affairs.
His research includes various topics such as aid issues, industrialization, macroeconomics, economic growth, public policy, employment, labor market, development economics, and international trade.