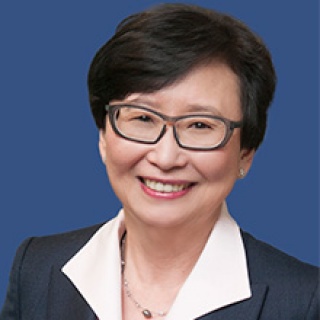 JANICE R. FUKAKUSA
Canada
Chancellor of Ryerson University Retired Chief Administrative Officer and Chief Financial Officer, Royal Bank of Canada
Janice Fukakusa is a corporate director with extensive banking and financial services experience. Previously. she served as RBC's Chief Administrative Officer and Chief Financial Officer and a member of RBC's Group Executive responsible for setting the overall strategic direction of RBC, from which she retired in January 2017 following a distinguished 31-year career.
Ms. Fukakusa currently serves on boards of a number of corporate and not-for-profit organizations including as Chair of the new Crown Corporation, Canada Infrastructure Bank, Chair of the Board of Governors of Ryerson University, and Boards of Cineplex, General Growth Properties, The Princess Margaret Cancer Foundation, and Wellspring Cancer Foundation.
In 2007, she was inducted into Canada's Most Powerful Women Hall of Fame and, in 2016 she was named one of the 25 Most Powerful Women in Banking by American Banker magazine for the fourth consecutive year. She was also selected as Canada's CFO of the Year by Financial Executives Canada, PwC, and Robert Half in 2014.
Prior to joining RBC, Ms. Fukakusa worked at Pricewaterhouse Coopers LLP where she obtained the professional designations of Chartered Professional Accountant and Chartered Business Valuator. She was appointed Fellow of the Institute of Chartered Professional Accountants of Ontario (FCPA) in 2011. She obtained a Bachelor of Arts, University of Toronto and Master of Business Administration, Schulich School of Business York University, and in 2016 was awarded an Honorary Doctorate of Laws from York University.
I am honored to support the Ashinaga Africa Initiative.