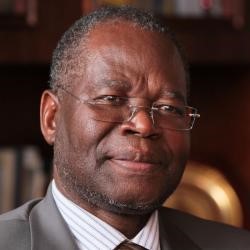 LAZARUS HANGULA
Namibia
Former Vice-Chancellor Chairman of the Board of Trustees. University of Namibia
Dr. Lazarus Hangula is the former vice-chancellor of the University of Namibia, a post he held from 2004-2018. Prior to this post, he served as the pro vice-chancellor for academic affairs and research, as a council member, and as vice-chairperson of the Senate of the University of Namibia. His other appointments include serving as a member of the National Council for Higher Education and as an ex-officio member of Namibia Qualifications Authority.
He holds a doctor of philosophy and a master of arts (cum laude) from Johannes Gutenberg University in Mainz, Germany
Dr. Hangula is a former technical advisor to the Joint Angola-Namibia Team of Experts on the Demarcation of the Maritime Boundary between Angola and Namibia, and former member of Namibia's country program for the International Atomic Energy Agency in Vienna, Austria. Dr. Hangula is the author and co-author of numerous scholarly articles.
Dr. Hangula is also actively engaged in academic exchange efforts with Japanese universities.