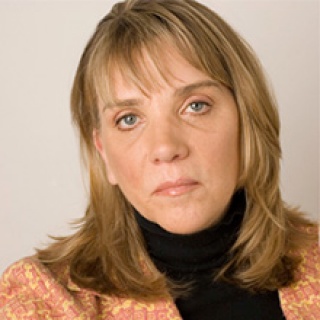 LINDA HOAGLUND
USA
Bilingual film director and producer Winner of the 150th Anniversary of US-Japan Relationship
Linda Hoaglund was born in Japan as the daughter of American missionary parents and attended Japanese public schools. A graduate of Yale University, she was a bilingual news producer for Japanese television before joining an independent American film production company in New York. Since 1996, she has subtitled 200 Japanese films including Miyazaki's Spirited Away and Kurosawa's Seven Samurai. In 2004, she received a commendation from the Foreign Minister of Japan for her work promoting Japanese film abroad.
She has also translated and interpreted for Japan's most esteemed artists, such as Ishiuchi Miyako, Yokoo Tadanori, Issey Miyake, Tomatsu Shomei, and Moriyama Daido. Since 2006, she wrote and produced Wings of Defeat, a film about Kamikaze pilots who survived the war to tell the truth directed and produced ANPO: Art X War, about the hidden legacy of art created in resistance to U.S. military bases in Japan, and directed and produced Things Left Behind, about Ishiuchi Miyako's "Hiroshima" photographs. In 2014, she directed and produced The Wound and The Gift, a cinematic fable about rescued animals. She is currently developing her new film, The Guardians of Edo Avant-garde.
As a bilingual and bicultural filmmaker, I am delighted and honored to be invited as a Kenjin-Tatsujin member. I benefited so much from my education in the Japanese public school system and hope to use my networks from my Canadian Academy international high school and Yale University to support the education of children and youth from around the world.