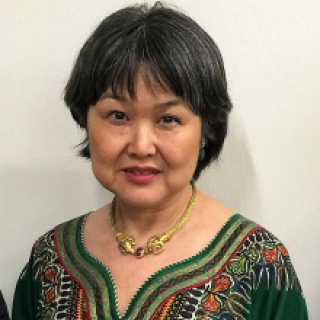 MIEKO IKEGAME
Japan
Former Director, United Nation's Office of Under Secretary General and Special Advisor on Africa Special Advisor to the CEO of AU-NEPAD Agency Lecturer at University of Tokyo Visiting Professor at Yokohama City University New York Representative of Japan-UN Friendship Association Senior Consultant for Private Sector Companies in Japan, USA and Africa
Prof. Mieko Ikegame is one of the first Japanese women employed as international civil servant by the United Nations system. In 2006, she was featured in Newsweek's "100 World Renowned Japanese Women". She is winner of the 2015 Academic Society of Japan's International Division Academia Prize.
She is a graduate of Tokyo Women's University in Japan, Simon Fraser University in Canada, and University of Stockholm in Sweden.
Since she joined the UN system in 1980, she has hold a number of key positions in the UN Secretariat, the United Nations Development Programme (UNDP), the Food and Agriculture Organization of the UN (FAO) and the World Food Programme (WFP). The major tasks in these positions aimed at mobilization of international support for socio-economic development of the developing countries especially through development cooperation and policy advocacy. She has in-depth knowledge and experience in field operations at country level as well as policy analysis though inter -governmental and inter-agency mechanisms such as General Assembly, Economic and Social Council, Security Council and Chief Executive Board of UN system.
Throughout her career in the UN system, she has undertaken extensive participation in field missions to 28 African countries (Benin, Botswana, Burkina Faso, Cameroon, Côte d'Ivoire, Democratic Republic of Congo, Egypt, Ethiopia, Ghana, Gabon, Guinea, Kenya, Lesotho, Liberia, Morocco, Mozambique, Mauritius, Mali, Namibia, Senegal, Sierra Leone, South Africa, Seychelles, Tanzania, Tunisia, Uganda, Zambia and Zimbabwe) and to 15 Asia (Bangladesh, Bhutan, China, India, Indonesia, Japan, Nepal, Maldives, Malaysia, Pakistan, the Philippines, Republic of Korea, Sri Lanka, Thailand and Yemen).
During her 33 years service at the UN system, she was the UN Focal Point for Tokyo International Conference on African Development (TICAD) in cooperation with the Government of Japan since TICAD I in 1993, UNDP since TICAD II in 1998, the World Bank since TICAD III in 2003 and most recently the African Union Commission at TICAD V in 2013. She negotiated at the request of the then-Secretary General for the UN to be co-organizer of TICAD with the Government of Japan. She played a catalytic role in bringing all other co-organizers (world Bank, UNDP, and AUC) into TICAD process in order to strengthen multi-lateral dimension of TICAD process for Africa's development.
Her last position was the Director for Advocacy, Coordination and Programme Development in the Office of the Special Adviser on Africa (OSAA) of UN Secretariat, which was created in 2003 following General Assembly Resolution on AU New Partnership for Africa's Development (NEPAD). The Office reported directly to the Secretary-General. The mandate of the office is to bring coherence in policy and programme development of the UN system for conflict prevention, disarmament, peace consolidation and sustainable development in Africa and to mobilize the international support for the continent.
As a leading Japanese UN official, she served as the President of UN/Japan Staff Association.