How Apollo Turned a Year-Long Wait into Positive Community Action
Apollo is an AAI Scholar from Uganda. Due to COVID-related travel restrictions, he wasn't able to come to Japan to start his university degree in person. This has not discouraged him to be proactive and use his time in Uganda to gain experience. He took on an internship with the Wakiso District Local Government and later participated in another online program called BuildforSDG2020. Additionally, he attended an entrepreneurship camp called the Swiss Re Start-Up Academy hosted by Swiss Re-insurance company, Aiducation International, and Junior Achievement Uganda. Apollo has also been very involved with the Nansana Cleaning Club.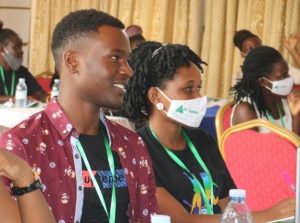 He told us a little bit about the Swiss Re Start-Up Academy;
"This was an interactive program for young entrepreneurs to develop business plans for our start-up ideas. We were offered lectures and mentoring on topics of pitching a start-up in front of investors, identifying customer needs, solutions, and unique selling points, success factor business model, marketing and market analysis, sales, basics of book-keeping, negotiating, influencing skills, and teamwork. For my group, our idea was 'Comfort Sanitary Pads' which is a business idea of providing reusable sanitary pads for school-going children in Northern Uganda.

Comfort Sanitary pads come to avail reusable sanitary pads accompanied with anti-bacterial wash with a lower annual cumulative cost. A pack of 2 pads will cost 6000 Ugandan shillings and will take them for a year compared to the current one-time disposable pads of 3000 shillings."
After attending this camp, Apollo put his entrepreneurship skills to the test and submit the idea to the UNICEF Uganda Innovation Fund Challenge.
The Nansana Cleaning Club was first established by the fifth cohort of AAI Scholars as a community initiative to improve Nanasana's hygiene and cleanness standards. Apollo has tried to carry on the legacy of the club, especially during the pandemic, when sanitation is central to stopping the spread of COVID-19. He says;
"The club has now spent two years in existence. As a club, we hold monthly cleaning vigils at different places within Nansana every second last Saturday of the month and periodically conduct sanitation clinics to raise awareness about the importance of a clean environment. Some members have volunteered to check the temperature of people entering marketplaces using temperature guns and also ensuring they wash their hands in these COVID times. The club has now secured partnerships with local NGOs like the Matovu Foundation and Uganda Pioneers Association."
Though he may not be able to fly to Japan to attend university yet, his work for the community is not going unnoticed. Apollo has been recognized for his work with the Cleaning Club. He was named on 25 Under 25: Leaders Changing the Game 2020. Apollo also won the Samsung Hidden Eco-Hero Award 2020, selected as the26th Eco-Generation Regional Ambassador for Uganda, and is currently enrolled in the 2021 Tony Elumelu Entrepreneurship Program.
Apollo's goals after getting to Japan include maintaining a high GPA, mastering Japanese, undertaking multiple internships, gaining multiple leadership experiences, and eventually going to graduate school.
Ashinaga is thrilled to see Apollo working for his local community already, and we cannot wait to welcome him to Japan.