Successful Week-Long Virtual AAI Tsudoi
Ashinaga camps are known as "Tsudoi" (つどい), which means "gathering" in Japanese. In non-COVID years, the AAI Tsudoi is a week-long event held in Tokyo's neighboring prefecture of Shizuoka, at a national youth center. Scholars and staff can count on being freezing, sometimes even with snow on the ground, but also breathtakingly clear views of Mt. Fuji. In previous years, guest speakers have traveled from the African Continent, the US, or Europe to share their wisdom and interact directly with Scholars.
The first Ashinaga Africa Initiative (AAI) Tsudoi was held in 2017; and due to the coronavirus pandemic, the 2021 AAI Tsudoi has been adapted to be completely virtual and online.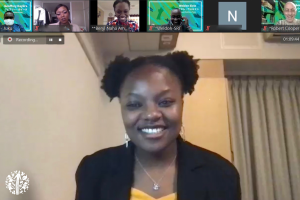 At AAI Tsudoi, Ashinaga staff, the Ashinaga International Student Association, and special guest speakers work together to create workshops, lectures, and activities for participants. Some of these activities relate directly to Scholars' Ashinaga requirements, such as presenting their "Ashinaga Proposals" (a proposal for a project they would like to implement in their home community). Other activities aim to develop their skills—particularly leadership—and inspire them to think about their own futures and the African continent's future.
This year, due to recent special challenges, we allotted sessions that will equip students with skills to manage stress, become more self-aware, and have effective tools to address conflict. Due to the limitations of holding AAI Tsudoi virtually, we have fully adapted the sessions to be suitable for virtual gatherings.
Ashinaga International Student Association (AISA) President 2020-21, Walter, said;
"I am so grateful to have the chance to connect, interact, and share with everyone for the 2021 AAI Tsudoi. A great kick by the AISA team with the introduction made me see some of my fellow Scholars for the first time.  From Watanabe-sensei's self-care session, I learned stress management techniques that are pretty easy and simple. The real-life scenarios, practical concepts, and articulate stories from our guest speaker Prof. Dominic K. Bagenda was one of the marvelous moments. I was struck by his point  'Define your destination, and do not confuse means and destination.' After having been busy with several things, I felt that was the best moment to refresh, relax and restart my journey."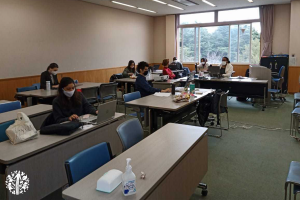 2021 looks quite different than a normal year full of in-person programs, but just as much planning was put into the sessions by the AAI Tsudoi planning committee. The team was comprised of staff from the Student Relations Team (SRT), Professional Network and Career Development Team, the Graduates and Alumni Team, Ashinaga student dormitories in Kobe and Tokyo area (Kokoro-Juku), and Scholars from the Ashinaga International Student Association (AISA) Committee.
Ashinaga staff working together in-person, socially distant, and masked up, to ensure the online event runs smoothly.
Due to the cancellation of the Japan internship program this year, the SRT was joined by local volunteers, one of them being Rumi, who joined the Ashinaga team from the Tokyo area to assist in planning and execution. Rumi says,
"Watching AAI Tsudoi unfold in seven days after months-long planning is a different kind of euphoria. Being a part of the planning process and participating in it is a phenomenal experience that has taught me many technical and interpersonal skills. Despite the limitations of meeting in virtual spaces, the wonderful staff of Ashinaga and their brilliant scholars have been a pleasure to work with."

Thanks to the hard work of staff and the planning committee, we can reflect on this usually in-person week-long event shifted online with a learning attitude. Additional thanks to all the speakers who joined us online from around the world; Dr. Dominic Bagenda of Future University Hakodate, Estelle Bougna Fomeju of Tissi Consulting, Watanabe-Sensei, Samuel Lawrence of Top Tracer, Michael Kasozi, and William Tlelima who are both recent AAI Graduates, and Beryl Nana Ama Akuffo-Kwapong, a former Ashinaga PND intern. We would also like to thank Evntc, which let us test their platform during this event.