Writing to Ashinaga San – Ashinaga Senegal students thanking donors for providing computers
In the last decade, technology has radically changed the world we live in. Computer skills have become fundamental to students to complete their studies and employers have been demanding computer literacy as a minimum requirement. At Ashinaga we are aware of the benefits that technology can have in modern education. Because of this reason, thanks to the help of our donors, we were able to send computers to the Ashinaga Senegal office in Dakar for students to use. To express their gratitude, two of the local programme's scholars, Fatoumata and Aliyou, wrote a thank you letter to the Ashinaga San – donors.
Dear Ashinaga san,

My name is Fatoumata Yattara, I joined the Ashinaga Senegal local program in 2017. I am currently in my second year of Management and Organization of Human Resources at the Institute of Management in Dakar.

At the beginning of my studies, I did not have a computer and I had a lot of difficulties in my studies: I went to cybercafés to make my presentations, do research and study for my exams. The study conditions weren't ideal, and I had a hard time showing my true capabilities at school because of a lack of computer. Today, knowing the importance of Information and Communication Technology (ICT) in today's world, whether for study or in the professional world, we are aware that the computer plays a very important role.

ICT enriches educational content, stimulates interaction between teachers and learners, and allows us to further personalize university education and reach previously excluded populations.

That's why since receiving the computers from Ashinaga, I no longer need to pay money to use a computer, I'm more comfortable in my research and I can store my documents and consult them from home. These conditions allow me to perform better at school and to be more motivated. They have developed our technological and computer skills.

We thank the donors for this great gesture and wish to show our gratitude to Ashinaga and its partners.  We promise to make good use of the computers and continue to work hard at school.

Arigato Gozaimas!
Fatoumata Yattara
Ashinaga Scholar in Senegal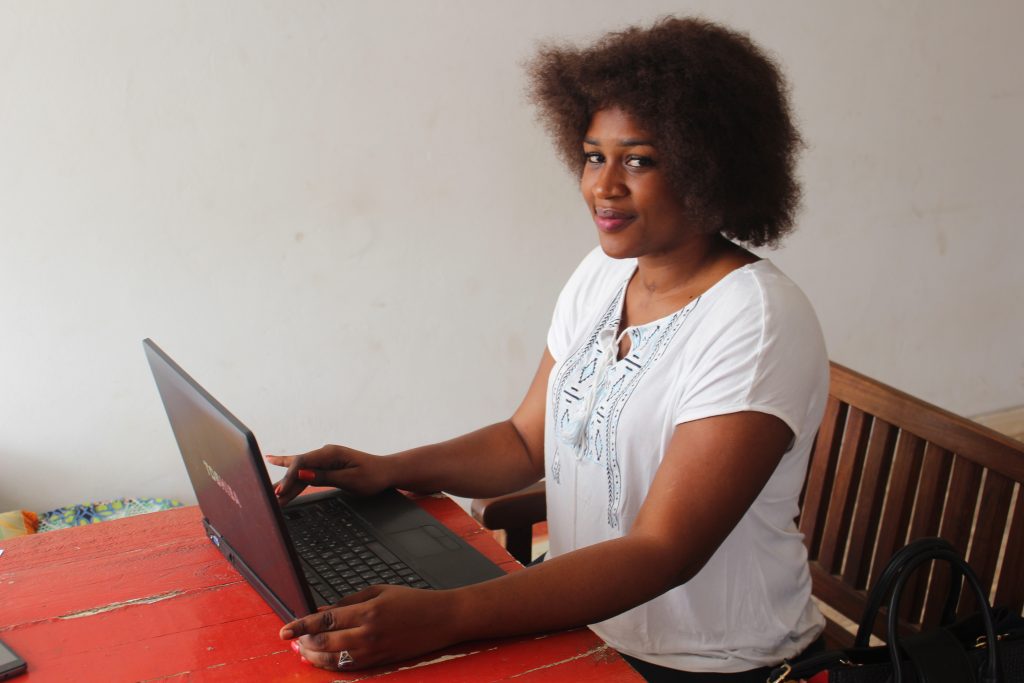 Fatoumata with her computer
Hello,

My name is Aliyou Coulibaly, I have been a beneficiary of the Ashinaga TJU programme in Senegal since 2018. I am currently in my third year in Maritime Vessel Traffic Control at the Trainmar Center in Dakar.

The computer has now become an essential tool in our university studies. Indeed, almost all of our activities are done with this tool. These include taking notes, writing homework, connecting to online teaching applications, software, researching, keeping up with current events, or downloading documents.

As we do not have the means to buy a computer, we are really pleased with the grant from Ashinaga Japan. It allowed us to store all our documents such as monthly reports, our online courses etc… and, since most of our classes at school use PowerPoint presentation, it allows us to obtain the digital version and prepare for tests. Its long battery life allows us to take notes for several hours and find them to use again.

In addition, we use it for personal purposes such as familiarizing ourselves or perfecting ourselves with the various Office applications, namely Word, Excel, Powerpoint, Access and those related to our field of study. These tasks will allow us to have a good foundation in ICT and, therefore, help us in our professional life.

On top of that, with the digitalization of the education system, many documents can be found on the internet. In this way, the computer helps us to carry out bibliographical research as part of our studies. Also, it seems more convenient or even easy to learn with computers rather than using a notebook.

This tool has become essential for our daily activities, both educational, informative and professional.

With this in mind, we would like to thank the entire Ashinaga Japan team for their favor in making it easier for us to study. We are truly grateful, and we are not sure how to return the favor.

Jërëjëf!
Aliyou Coulibaly
Ashinaga Scholar in Senegal
Aliyou with his computer
Read more about Ashinaga Senegal and their local programmes here.