Two AAI Scholars Intern with Big Wave Kawasaki in Oita, Japan
For two weeks in late summer, AAI Scholars, Patience and Walter, undertook an internship with Big Wave Kawasaki (BWK), an automobile recycling and spare parts business in Oita, Japan. The two Scholars are both from Uganda and currently enrolled in an undergraduate degree in Japan, Patience at Kwansei Gakuin University, and Walter at Tokai University. Following the Tokyo International Conference on African Development (TICAD 7), Ashinaga had been discussing with the newly established connection about the possibility to access internship opportunities in Japan. BWK was introduced by Qunie, Co. Ltd, a consulting company supporting Japanese companies interested in doing business in the African continent.
About Tokyo International Center on African Development(TICAD)
Big Wave Kawasaki was established in 1979, originally with the purpose of dismantling automobiles, as well as selling and popularizing the use of used auto parts in Japan. Now, they also export used cars and parts overseas and do complete car recycling. In 2004, they acquired an ISO14001 standard, which is an international certification that helps organizations minimize their negative externalities to the environment. A cornerstone of their business is to protect the environment, make effective use of resources, and incentivize the adoption of used automobile parts over the new, and contribute to the construction of a recycling-oriented society. Currently doing business in Cameroon, Big Wave Kawasaki is interested in further expanding in Africa.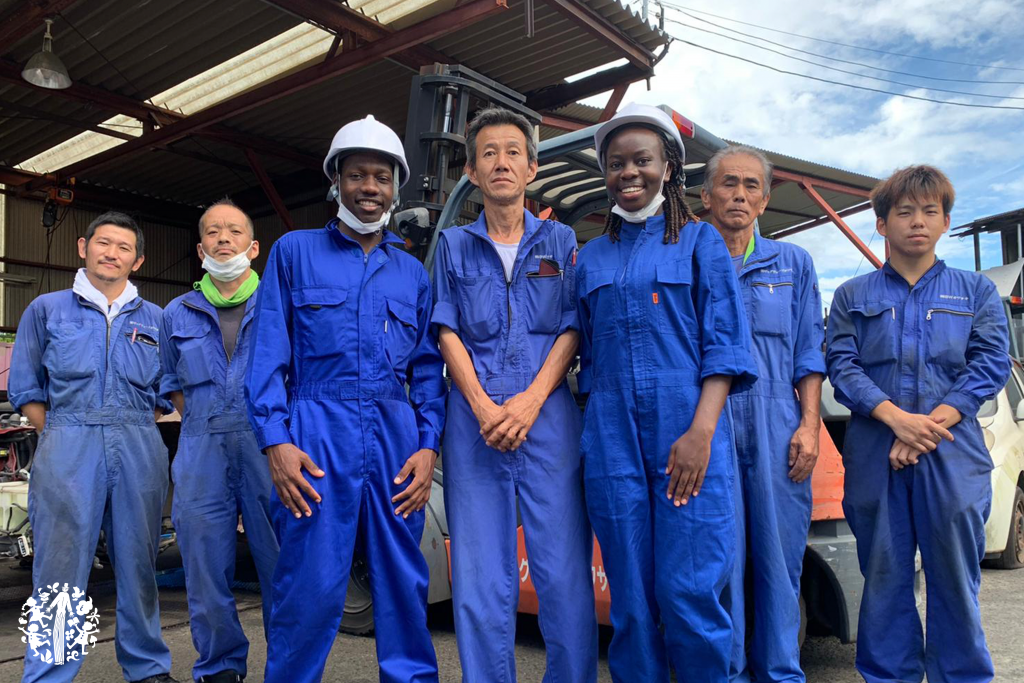 Patience and Walter presented their experience over Zoom to Ashinaga staff, AFRECO, Mainichi Newspaper, Mainichi Advertisement, and Qunie, Co,  who have all been involved in this project.  The President of Big Wave Kawasaki, Mr. Kai, gave his remarks, saying that "even though this internship only lasted for two weeks, Patience and Walter were both very passionate and active in not only their participation of the program but sharing their opinions and asking questions. Not only was this a great experience for our company to teach about our business, but we could learn so much from both of them. I think they could learn about all aspects of our business during this short time, and for that, I am very happy. Big Wave Kawasaki started a project in Cameroon to introduce their car recycling system, and we want to learn more about the African market."
Walter and Patience had the opportunity to learn in-depth about car mechanics, container shipping, vehicles recycling, auctioning, vehicle sales, company work ethics, car maintenance through hands-on learning, and more. They also had the chance to visit and have conversations with different other car dealers in Oita including Honda, and Toyota KK mechanics.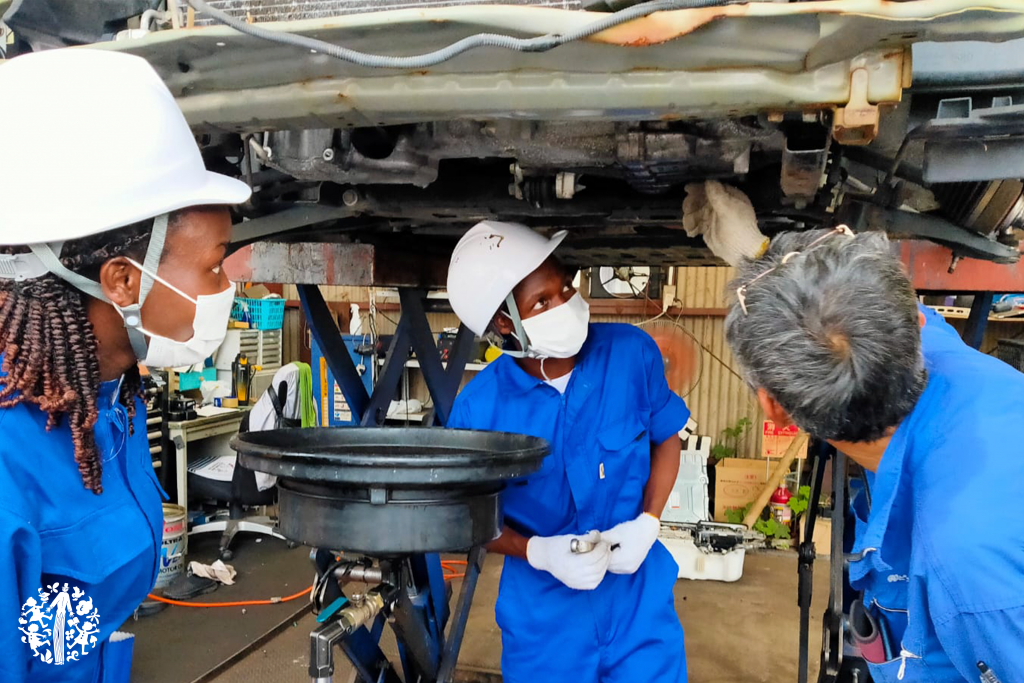 Reflecting back on his experience, Walter recalls "being able to go to the factory things are being made, and having that real-time experience, was very valuable to me. As an Electrical Engineering student, I enjoyed learning about the application of my theoretical knowledge to the real business world. I learned a lot about factory management, business planning, practical skills, and more. I am very interested in the container industry and recycling. I want to bring those things back to Uganda. This internship was a valuable networking chance for my future."
Patience had a similar feeling, stating "I was able to create very valuable connections. Through the president, we could meet many people who were extremely knowledgeable about business in Africa. In the future, the connections that I got can help me in my career choice. I learned a lot about how to work with Japanese people. I also learned a lot about business planning and how to fix cars. I felt that we could pave the way for other students of the AAI to go there and work because they saw how we could work."
"As an Electrical Engineering student, I enjoyed learning about the application of my theoretical knowledge to the real business world. I learned a lot about factory management, business planning, practical skills, and more."
As for bringing what they learned back to Uganda, Walter notes that they worked on an Uganda-specific case study while doing the internship. "We researched a lot about the standards in Uganda. Since [the business] is successful in Cameroon already, we can contribute to the success of it in Uganda." Patience adds, "Uganda and Cameroon are very similar. There are so many auto parts that are dispersed on the road, there is so much junk but there is no system in place. Yes, Uganda very much needs a recycling system. We are happy to see the government looking for someone to do it and supporting it. If this recycling system would be established in Uganda, I think it would be very easy. It would create implement opportunities for our people. I think it would be a win-win situation for both countries."
Ashinaga is proud to have made this connection with Big Wave Kawasaki, and that already two AAI Scholars could spend time in Oita getting real-life experience. We look forward to Scholars in the future also finding internship opportunities with organizations like Big Wave Kawasaki, which provide both valuable network and practical experience for their futures.