An International Tsudoi in the United Kingdom
Ashinaga UK recently held its 4th International Tsudoi with the highest ever number of attendees – including 24 Scholars and four external experts. Scholars travelled from across England and Scotland to meet in King's College London over three full days of leadership-cultivating activities, workshops, and presentations.
The Ashinaga African Initiative's (AAI) UK programme has been receiving Scholars from 18 sub-Saharan countries since 2014. With five cohorts simultaneously enrolled at universities across the British Isles, the International Tsudoi is a fantastic opportunity for Scholars to meet, develop friendships and put leadership development into practice.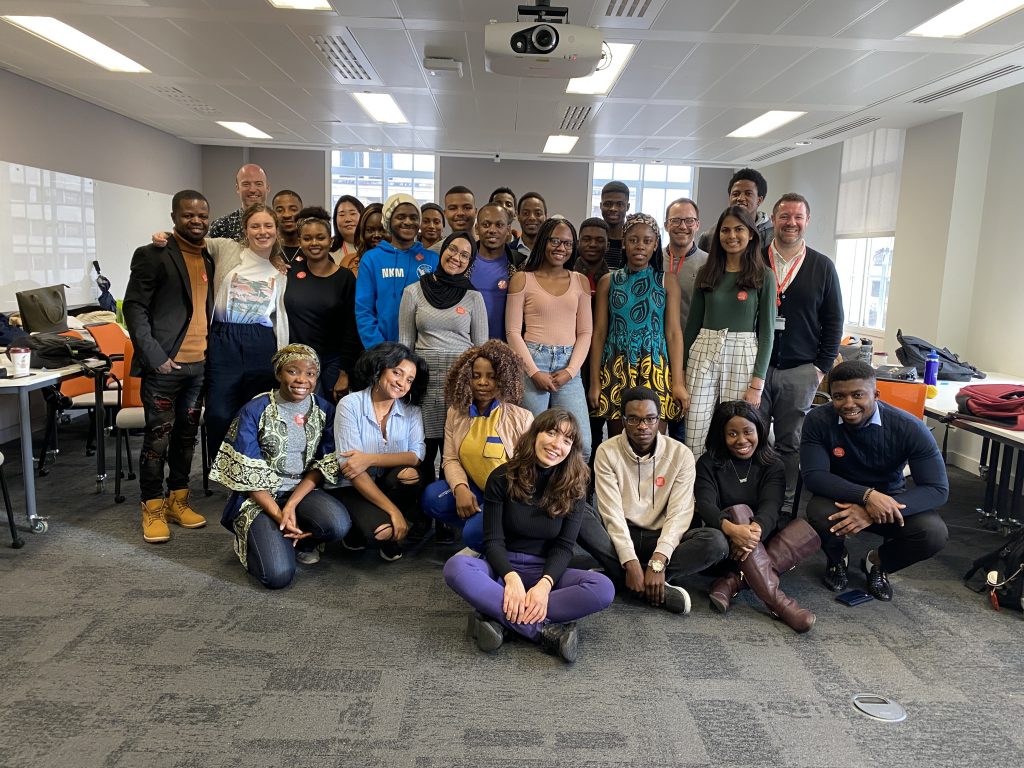 AAI Scholars and Ashinaga UK Staff at the International Tsudoi
Each year, tsudoi offers the ideal setting for students to cultivate a set of core leadership skills centred on personal, academic and professional development. This year's theme – Leadership in 21st Century Africa – was built around three skills and qualities – namely Entrepreneurial Mindset, Research & Reporting Skills, and Growth Mindset – selected from the AAI's newly released Leadership Development Framework and based on the results of a survey assessing Scholars' self-identified priorities. The UK team curated activities and material to facilitate our students' progress in developing these competencies.
We had the privilege of hosting guests from Sierra Leone, Senegal and France, who shared their expertise in leadership, innovation and public speaking along the lines of the 2019 tsudoi theme. A key session was the mental health awareness workshop delivered by Julia Haas, King's College Student Union's Well-Being Coordinator trained by UK's student mental health charity Student Minds. Julia raised topics such as spotting when someone is struggling, and key tips for being a better supporter for friends, peers and family, as well as self-help. PJ Cole, the Lead Technical Strategist of Sierra Leone's Directorate of Science, Technology and Innovation (DSTI), One Young World Ambassador, and Queen's Young Leader shared his experience of becoming a high achiever contributing to the development of the Western African region, and inspired AAI Scholars to overcome barriers to growth with confidence. Parisian public speaking coach Estelle Haas, who transmitted her contagious joy and dynamism through various theatrical drills, trained all attendees to master their voice range and develop non-verbal communication. Finally, participants had the chance to interact with Binta Zahra Diop, a PhD candidate at Oxford School of Economics who represented the Senegalese swimming team in the 2008 Beijing Olympics. These motivating experts all galvanized Ashinaga Scholars and staff alike and provided excellent models for multiple facets of leadership.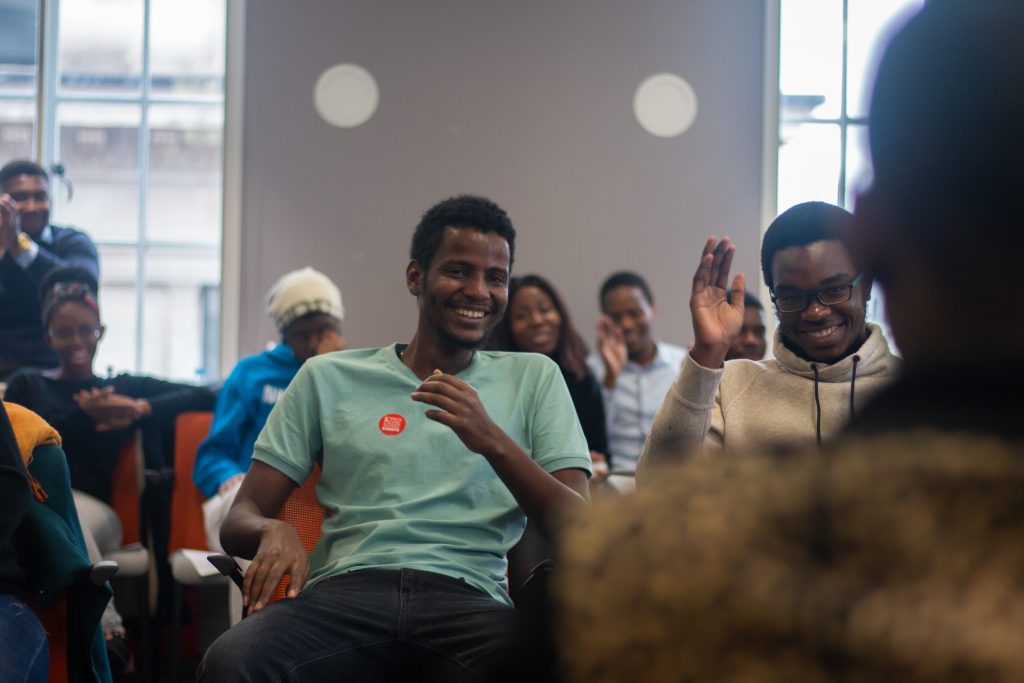 AAI Scholars attending a lecture
A fundamental aspect to leadership development during tsudoi is Scholar participation and involvement. Sakiinah and Idriss, in their fourth year, imparted their own experience of money management and budgeting, while various cohorts gave well-structured and moving presentations on the journey of their Ashinaga Proposal since they started working on it. These are opportunities for Scholars to reflect on their growth in researching a self-identified social issue in their communities and to provide their audience with a convincing, well-rounded plan for resolution. Younger students were inspired to put older students' advice into practice for developing their own projects.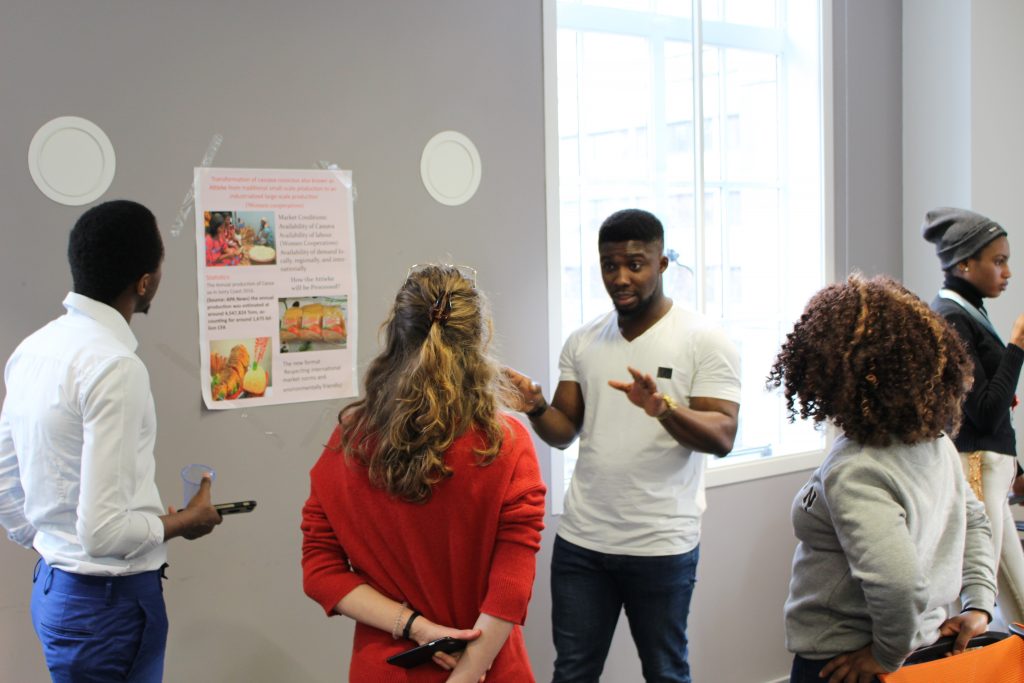 One of the AAI Scholars presenting
One of the AAI Scholars in the UK emphasized that year after year tsudoi keeps on improving. We are already looking forward to the next edition. Scholars will have further opportunities to present, inspire, impart and learn how to lead in each of their spheres in sub-Saharan Africa.