2019 Angolan AAI Scholar Reflects on Journey towards Brazil
Since his early teenage years in the suburbs of Luanda, Angola, Mauricio Kessongo has been listening to hip-hop, writing lyrics and rapping, using it as an outlet for self-expression and storytelling. Following the sudden loss of his father at age 13 and the hardship his family endured in the following years, making music was an essential catharsis that helped him channel strong feelings of loss, love and resilience into a positive outlet.
Inspired by his father's hard work, entrepreneurship and burning desire to learn, Mauricio worked tirelessly in secondary school, as well as pursued small research jobs on the side to support himself. Looking to share his educational achievement with the local community, many of whom are low-income subsistence farmers, Mauricio founded the Marie Curie Tutoring Center in 2017. Named after the Nobel Prize-winning scientist, Mauricio taught mathematics, chemistry and physics to secondary school students with the aim of helping them succeed at school themselves. The Center continues today through a network of teachers and supporters that he stays in touch with from afar.
Studying outside of Angola for university had long been a dream of Mauricio's and after seeing an informational ad on the Japanese Embassy's Facebook page he applied for the AAI scholarship. Initially, he didn't expect much but after being invited to the interview stage of the application process he began to believe that he had a chance. "Through my experience rapping and writing poetry, I knew that I had the ability to express myself and felt confident that I could do well in the interview" Mauricio recalled. His confidence wasn't misplaced- soon enough he was calling his family to tell them that he had been invited to the be the 2019 AAI Candidate from Angola.
Fast forward over half a year, Mauricio is now deep into the Uganda Kokorojuku Study Camp amongst candidates from 22 countries across Sub-Saharan Africa. In addition to academics, becoming friends with his fellow students- regardless of any language barriers- has been a cherished part of this journey and one he looks to continue even when he is studying in Brazil. Inspired by the strength of his Ashinaga peers, Mauricio is in the midst of writing a book entitled 'The Resilience of Orphans' to tell their stories.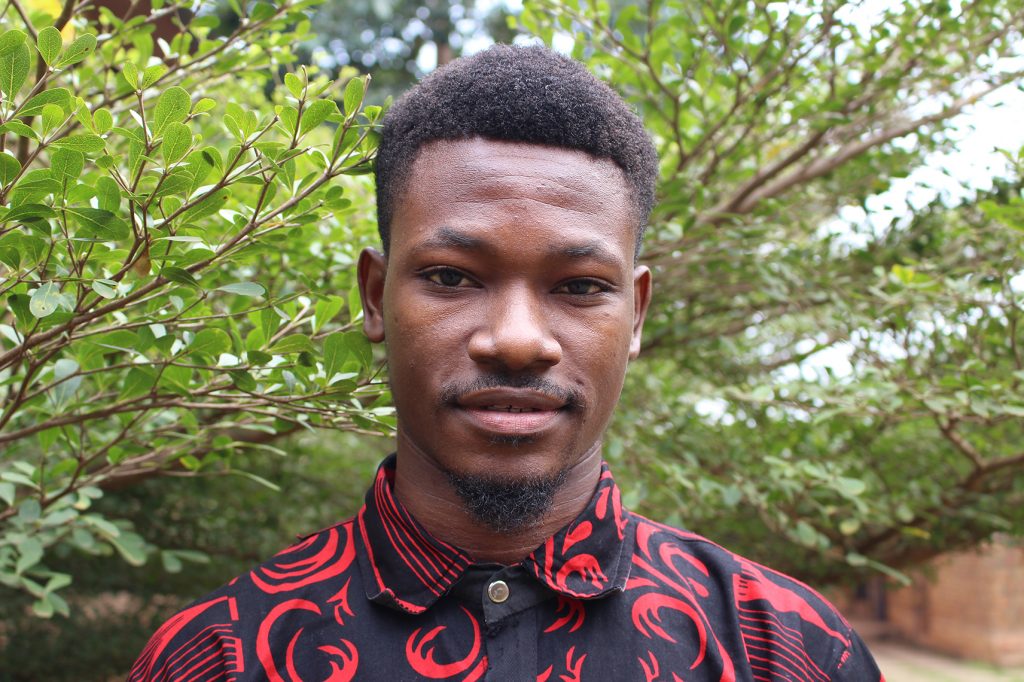 Mauricio, AAI Scholar from Angola
Even as he continues with poetry and writing at the Kokorojuku, Mauricio's main focus is preparing for his upcoming studies in Computer Engineering. Aside from having a background in computers and looking to sharpen these skills, Mauricio wants to take what he will learn in Brazil and address the issues with education and social engagement home in Angola. "Many Angolans are too busy trying to survive to have the time or ability to learn about social problems. As a result, many of the issues that impact their lives are left unattended." Fusing technological savvy with his experience in education, Mauricio wants to use technology to increase access to information through an online educational platform as well as tackle challenges Angolans are facing through the creation of new digital systems. These two components- education and technological solutions- are key, says Mauricio, as people need to be educated about issues before they are able to address them.
The past few months have been a whirlwind of firsts for Mauricio- leaving Angola for the first time, working with students, interns and staff from across the globe, and focusing on developing his skills for the future. This wave of new experiences is sure to continue. Soon enough Mauricio will fly to Sao Paulo to begin his studies and life in Brazil. Whatever challenges he should face in the coming years, Mauricio is certain that his resilience and the dreams he is realizing with Ashinaga's support will enable him to overcome them, and perhaps write a rap song about it after.