AAI Scholar Wins 2019 Innovation Award at Waseda University
On Monday, August 26, Ashinaga co-hosted the TICAD 7 Innovation Award, alongside Association of African Economy and Development (AFRECO) held at Waseda University. Four experts on business in Africa judged six student pitches, ultimately choosing two winners, Ashinaga Scholar, Emmanuel Maseruka and student at Yokohama City University, Yuki Yasumiba. The grand prize included a round trip Qatar Airlines flight to an African country of the winner's choice, which will help them to continue their research and strengthen their network.
Ashinaga Africa Initiative Scholar, Emmanuel, is a first-year student from Uganda studying International Liberal Arts at the University of Akita. His proposed project aims to redefine waste management in Kampala, by introducing his own "Gomi Economy" model in Uganda. The Gomi Economy would contribute to two SDGs; sustainable cities and communities (#11) and responsible consumption and production (#12). During his presentation, he highlighted the issue of over one thousand tons of trash that is illegally dumped daily. Even of the rubbish properly disposed of, over 80% cannot be recycled because it is not separated out.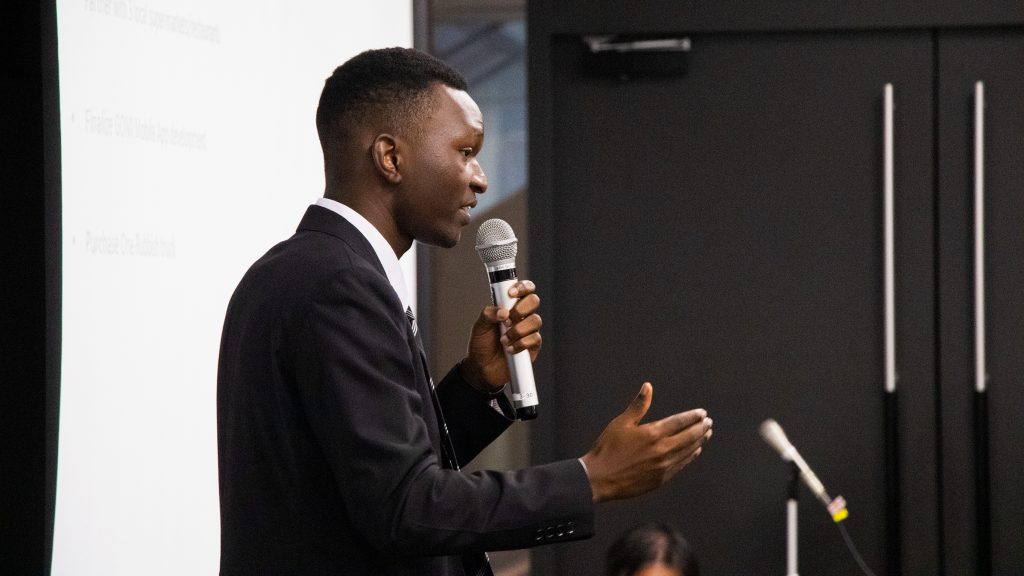 Emmanuel, AAI Scholar from Uganda
Emmanuel's aim is teaching citizens how to sort their trash and give them incentives to do so. The Gomi Economy mobile app will offer discounts at partnered organizations. Only $2 per month to subscribe, this app will be targeted at families. In the proposed plan, registered households will receive rubbish bags with unique QR codes. When the bag is collected and scanned, it sends that household points automatically on their mobile app, which they can use toward discounts at partner organizations. Gomi Economy then sells the trash to recycling companies who can dump it in the authorized places. Eventually, Emmanuel hopes to expand to other African countries. This well thought out plan, as well as the willingness of government organizations to partner with the Gomi Economy, impressed the judges.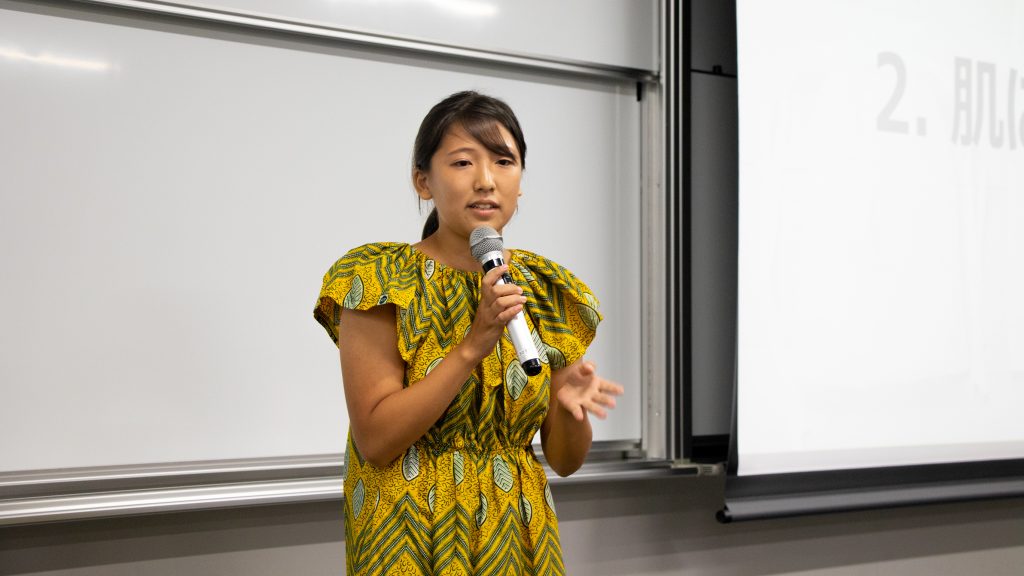 Yuki, from Yokohama City University
The Innovation Award's other winner, Yuki, proposed an idea to create sanitary napkins for women in African countries created from secondhand baby clothes from Japan. Menstrual products are often expensive. This results in pads and tampons, a necessity for women around the world, a luxury product for many. Her idea would create washable, reusable pads that can be produced and sold in local communities.
Congratulations again to Emmanuel and Yuki, but also the other four student entrepreneurs who presented their ideas at this year's Innovation Award. This event was a great success in drawing many innovative and unique ideas that will expand the future of Japan-Africa relations.